Beaglier Books is an Australian owned and operated family company with extensive educational and business expertise. Our passion is to bring unique, interesting books to the Australian market.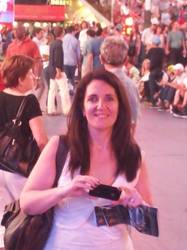 Our team, headed by Claudine Zuker (pictured) is married with 4 children and is a Teacher with over 30 years experience in education. Together, our team search the globe to find boutique and popular titles from publishers that have not been available in Australia before. We love finding new and unusual titles that suit a diverse range of retailers, including book stores, gift shops, hospitals, educational re-sellers, museums, galleries, pharmacies, toy stores and more.
As bookworms ourselves, we want to contribute interesting and diverse titles to Australian book lovers. From cooking to art, children's to travel, we have all topics covered. We listen to our customers and pride ourselves on our personalised service. Our customers are our priority, from store visits, to fulfilling orders and speed of delivery.
Our network of publishers have been chosen because they fit our range and enable us to offer customers something new. We do not take on ranges that conflict with our current collections. Each new edition must complement and enhance our offering to our customers. That's our promise.
Just look inside to discover more.
Please visit our sister companies web site for all your display needs.